July Newsletter
Your Home - How to Make the Most Out of a Small Outdoor Space
When spending so much time at home these days, it's more important than ever to make sure your outdoor spaces are ready and usable to help give you a little extra breathing room and opportunities for relaxation.
In addition to extending your living space, it's a great opportunity to design the area and give it a great ambiance. It will help pass the time while working toward the goal of having a beautiful oasis in which to relax. Even better, you can do this project on a budget, using lots of things you probably have sitting around your garage or house.
Whether your small outdoor space is a balcony or urban garden, start by measuring your space and sketch out a floor plan.
Small spaces have benefits - they feel intimate and comforting. Here are some helpful tips and ideas to consider when creating an outdoor oasis.
Decide What to Add
To create a Zen space: white, green, sand, cream and blue are colors that will create a calming effect. Think about feng shui principles and ways to incorporate wood, metal, earth, water and fire.
There are a lot of ways to add those elements. Straw mats, mounted to a wall or backyard fence, add a touch of nature and soften the space, as do white canvas drapes. Both the mats and drapes can be placed strategically (on a common balcony wall or to create a partial wall along the balcony railing for example) to create privacy.
Trellises and wood slats are another way to add a touch of wood and they can also be strategically placed for privacy. Wood can be left untouched or white washed for a lighter feeling.
Incorporate metal with accessories, such as planters, for example. Fill those pots with flowers in pale colors, such as baby pink and white for a fresh clean ambiance.
Consider a Peaceful Water Feature
The sound of water is soothing. If you can't add a water feature, a clear bowl filled with soft blue sea glass will represent water.
Consider Candles
Candles, even if they are just tea lights, are a great addition to a space. Again, the key is to use white or soft colors. However, bright colors will add energy to the space. For a touch of shabby chic, add soft lavenders and pinks. Put tea lights on vintage plates or a cup and saucer.
To add clarity, choose white candles or white washed pottery. Use statues, like a Buddha statue, to add a touch of serenity. Pillows and carpets provide seating on the ground or floor.
Recycle No-Longer-Wanted Items
Recycle elements by taking no-longer-wanted indoor items outdoors. Change their look by repainting them or use them for something other than what they were intended. Create signs of positivity by adding inspirational words, such as joy and happiness, to old pieces of wood, plates or rocks.
Upcycle old clothes into pillow covers. Decorate your pillows with fabric paint. Sew fringe onto a blanket for a boho touch. Use candle holders as planters. The list is limited only by your imagination. However, keep your space uncluttered.
Dollar stores are a great source of inexpensive decorating items, from rocks to marbles to lanterns and craft supplies.
Consider a Fire Pit
If you're decorating an urban backyard, you have a little more space. You may want to add a real fire pit. On the other hand, if you live in a condo that doesn't have a balcony, create "outdoor" space in your solarium by following the same principles and adding lots of plants. If the space is too bright, add an inexpensive roller blind.
During these times, creating a multi-functional Zen oasis is a great feel-good project from start to finish. It's time well spent that you will thank yourself for, for months to come.
Finances - What to Do When Your Spouse Has Bad Credit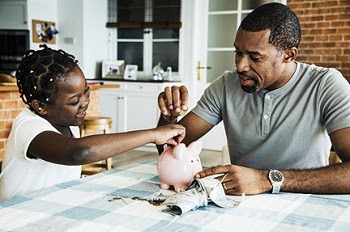 When a couple decides to buy a house together, it's a very important step in their life journey. There's lots to do from gathering all the paperwork, to applying for a preapproval, to shopping for a new home, and plenty of stuff in between. It's certainly a big decision, especially for a couple buying their very first home. One of the main qualifying factors is credit. Lenders want to make sure the applicants have demonstrated both the ability and willingness to pay off debt. The credit evaluation process is what makes the determination in these questions.
Three-digit scores are provided by all three of the main credit repositories of Experian, Equifax and TransUnion. While all three use the very same algorithm, rarely will these numbers be exactly the same. Some businesses don't subscribe and report to all three. Different regions can also affect the timing of the reported information.
And, businesses won't report credit payments all at the same time. But they will be similar. For instance, a credit report might show three scores of 690, 730 and 725. Of these, lenders will throw out the highest and the lowest score using the middle score for qualifying, or 725 in this example. But what if there are two people on the same application?
In that scenario, the lender pulls credit for both applicants along with their credit scores. Again, using the same example, one applicant has a qualifying score of 725. The other applicant's scores read 710, 724 and 760. The middle score of these is then 724. Now we have two qualifying scores, 724 and 725. The lender will then use the lower of the two for qualifying. Sounds simple, right? Well, sometimes a problem can present itself.
Let's say the second spouse has credit scores of 550, 570 and 515. Of these three, the qualifying score is 550, too low for most programs. The first step to normally follow is signing up for credit counseling. But that takes time. What if there is a house the couple wants to buy now? Should they stop everything and wait a few months for credit to improve? The answer, surprisingly, is no.
There's a term in the mortgage industry referred to as a "non-purchasing spouse." This means one spouse will be on the mortgage application and the other left off. Doing so removes the damaged credit from the application altogether. But the non-purchasing spouse can still be on the title showing evidence of an ownership interest in the property just not on the mortgage.
The tricky part is making sure there is enough income for the purchasing spouse to qualify for the new mortgage. If both incomes were needed in order to qualify for the home they want, that's going to be a challenge. But, if the purchasing spouse can qualify using his or her own income, there's no need to put the other spouse on the loan application. Or, perhaps putting more money down in order to lower the loan amount to the level where the purchasing spouse can now qualify.
Damaged credit doesn't have to stall the home purchase process. As long as the spouse with the better credit has enough income to justify the loan, the deal can still go through.
This article is for information, illustrative and entertainment purposes only and does not purport to show actual results. It is not, and should not be regarded as investment advice or as a recommendation regarding any particular investment action.
Personal Interest - Is it Safe to Go to a Community Pool this Summer?
After months of being quarantined at home, the world is opening up again. That's perfect timing for many, considering it's hot outside, and when it's hot out, there is nothing better than heading to the pool. If you have your own swimming pool, you're probably considering yourself pretty lucky right now. But what if you don't? Is it safe to use the community pool?
Can you get coronavirus from swimming pools?
The growing consensus among experts is that the possibility of catching the coronavirus outdoors is much lower than indoors. But it is not zero.
The latest research indicates that the water itself doesn't pose a danger. "There's nothing inherent about ocean water, or especially pool water, that is risky," Dr. Ebb Lautenbach, chief of infectious diseases at the University of Pennsylvania's Perelman School of Medicine, told them. "The bug isn't transmitted via a waterborne route. Chlorine and bromine that are in pools inactivate the virus and makes it even lower risk in terms of catching it from the water."
The U.S. Centers for Disease Control and Prevention (CDC) confirmed in its recent guidelines for operating swimming pools during the coronavirus pandemic that, "There is no evidence that the virus that causes COVID-19 can be spread to people through the water in pools, hot tubs, spas, or water play areas.
So, the problem isn't in the water. But that doesn't mean it's safe to run to your local community pool and enjoy pool time in large groups. Large group gatherings are still an issue to worry about and avoid.
CDC Recommendations
The CDC has set out some recommendations to follow if you decide to head to your community pool this summer:
Keep your distance
- Avoid group events, gatherings, or meetings both in and out of the water if social distancing of at least 6 feet between people who don't live together cannot be maintained
Keep clean
- Make sure to wash hands often and cover sneezes and coughs. It also helps to be aware of frequently touched surfaces at the pool, like door handles, handrails, lounge chairs, and tabletops.
Bring your own disinfectant
- Especially now, community pools should be well-stocked with cleaning supplies and should have advanced procedures for keeping common areas disinfected. But it doesn't hurt to be prepared. Stock your swim bag with soap, hand sanitizer, and wipes so you can help everyone stay safe.
Wear a mask, when appropriate
- The CDC encourages the use of cloth face coverings as feasible. Face coverings are most essential in times when physical distancing is difficult. That said, masks shouldn't be worn in the water because they can make it hard to breathe.
Know when to stay home
- Stay home if you have symptoms of COVID-19, have tested positive for COVID-19, or were exposed to someone with COVID-19 within the last 14 days.
Don't share objects
- If you plan to bring accessories like balls, goggles, or pool noodles, be sure they're not being shared with other people.
Thank you and have a great month!